Late 18th Century Quilted Bedspread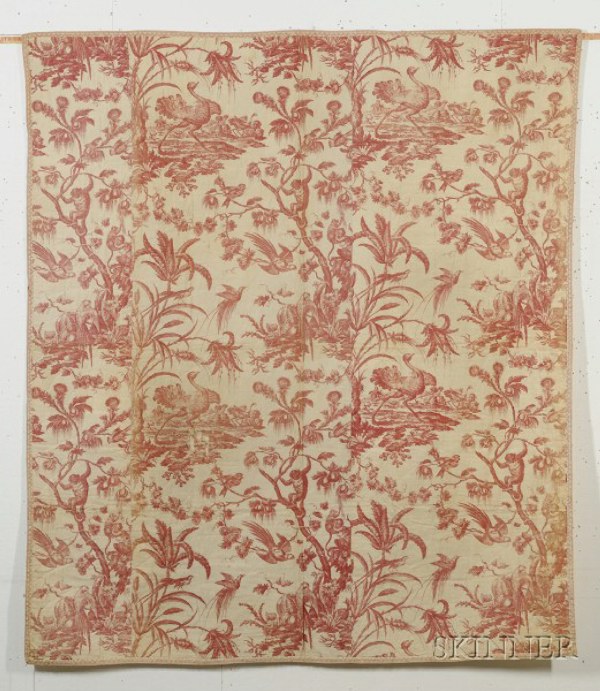 Sale 2414 Lot 567
Red on White Copperplate Printed Cotton Toile Quilted Bedspread, late 18th century, three-piece spread depicting ostrich hunting, exotic birds, monkeys, and vegetation, over a thin wool batting backed with white cotton, quilted in a fishscale pattern, edged in red printed cotton, (imperfections), 77 x 68 in.
Provenance: Family descent. According to family history, the bedspread was a wedding gift to Abraham Voorhees (1763-1827) and Moriche Lott (1769-1831) on December 17, 1789. Accompanying the bedspread is a small framed needlework sampler wrought by Moriche Lott when she was thirteen in 1782, and the book Historic Quilts, by Florence Peto, published by the American Historical Company, Inc., New York, 1939. The book pictures and discusses the bedspread on pp. 196-198.
Estimate $1,000-1,500
the fabric "repeat" is about two feet three in. wide, although one width is less; 3 x 4 in. tear area, light toning, some fading to edges of design.
http://www.skinnerinc.com/asp/fullCatalogue.asp?salelot=2414+++++567+&refno=++734235&saletype=