Ulmer Quilt Frame

If you are NOT your Ulmer Hand Built Amish Quilt Frame from Threads In Tyme you are paying too much! Remember, our price includes FREE SHIPPING!*
IF you are Canadian, and you are interested in buying a frame from us, we are looking into possibilities of shipping the frame directly to you! PLEASE, contact us for more details...
*FREE SHIPPING only applies to the Continental United States. If you are in either Alaska or Hawaii, please contact us for a firm shipping quote.
We do NOT ship to either APO's or FPO's!
If you would like to order an ULMER Quilter FRAME just send us an email and we will bill you through PayPal.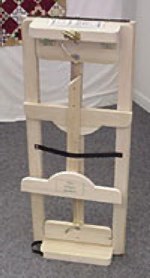 If you would like to place our Ulmer Amish Built Quilt Frame on free layaway here are the instructions:
1) Decide on how many payments you would like to make (we accept up to 3 payments). You can pay by equal payments each month.
If you chose the 2 payment option, your payment would be: $87.00 per payment.
If you chose the 3 payment option your payment would be: $58.33 per payment.
2) Send us an email and tell us how many payments you would like to make and we will bill you monthly by PayPal.
4) As soon as we receive all of your payments, we will ship your frame...
5) Here is our address to send your check to:
Debra Lane
726 Crescent St NE
Grand Rapids, MI 49503.
That's all that there is to it!
If you decide to send a check, please be aware that due to banking regulations your check will be held until it has cleared. We have had some checks from buyers that have bounced recently. In some cases, checks may to be held as long as 10 working days. One way to get around this is to send us either a bank draft, or a money order.
If your check does fail to clear there will be a handling fee that will have to be paid in the event your check should fail to clear.
We are very sorry for any inconvenience that this may cause you.
*No Assembly
*Compact-stores under bed
*Folding legs - hangs on wall
*Set-up and takedown in seconds
*Tilts for comfortable quilting
*Quality, solid wood construction
The ULMER AMISH BUILT Quilt Frame is a totally new concept in quilting frames. It was designed to be lightweight, portable, and easy to use. It can be set up in a few seconds with ease, and it is easily stored or transported.
This frame comes fully assembled and provides over 4 square feet of working surface. Although designed for quilting, this frame works equally well for embroidery and various types of rug making.
Do you like to travel? Not a problem for The ULMER AMISH Quilt frame! It is compact enough to take along wherever you go. And it's always ready to use.
Each frame is hand-crafted by Amish-Mennonite craftsmen, and built to give a life time of enjoyment and use. It comes with a one year warranty on all parts.
THREADS IN TYME price....$177.00 (and that includes shipping)!!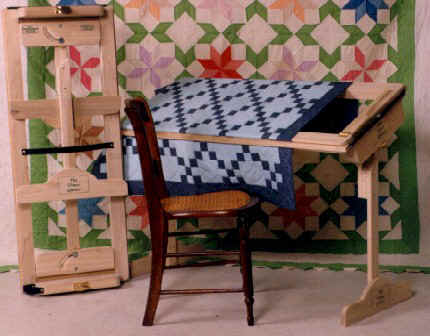 Others are selling this wonderful quilt frame for as much as $199.95 (plus shipping!) Save yourself over $57.00 and order one today...or use our convenient layaway...for Christmas!!
Over the past year we have sold DOZENS of frames all over the Midwest and South!
Read what some of our customers have said about the Ulmer Amish Hand Built Quilt Frame:
"Dear Deb,
Thank you for offering the Ulmer Amish Built Quilt Frame with the shipping included in the price! Other places are selling the same frame as you for as much as $199.99 PLUS up to $30.00 extra for shipping!
Sincerely,
WT, Indiana."
"Dear Deb,
Thank you for shipping the quilt frame so quickly! I never expected for the frame to arrive as quickly as it did!
Roberta,
Missouri"
"Dear Threads In Tyme,
The quality of the Ulmer Amish Built quilt frame is OUTSTANDING! Now I don't have to leave my quilt stand standing in my living room taking up all that extra space! I store my quilt frame in my small apartment!
Dreama,
Pennsylvania"